Wow! What a year was 2020. At the beginning of the year, we finished our product photography rebrand of a national women's clothing retailer. We were proud of what we had accomplished there, and were ready to tackle our next project: finding a new studio! In March, we found the perfect space, and began the process of relocating. Within five days of our move, COVID-19 had exploded in Houston and we went into a two week lockdown. Over the next months, we were nonessential workers and struggled to keep the studio alive. Gradually we were able to have sessions with clients again. We limited our shoots to outdoor locations, where social distancing could be easily practiced, and we wore masks the entire time. It was tough for us! We love our clients! Sharing space, and capturing unique moments with people is why we are here. Before the pandemic, we would shake hands and hug, come in close to show photos in camera right after they happened. All of this went away, and it made things quite different on set. Despite the challenge of a changing world, we were still able to create art, which is an incredibly important thing especially in hardship.
2020 was a tough year, but it also brought us amazing opportunities. We got to photograph Simone Biles (Olympic Gold Medalist), Dominique Sasche (Channel 2 News Anchor), Katherine Webb- McCarron (Miss Alabama 2012, wife of the Houston Texan's quarterback A.J. McCarron), and Reagan Howard (wife of Astro's star slugger Alex Bregman) along with several others!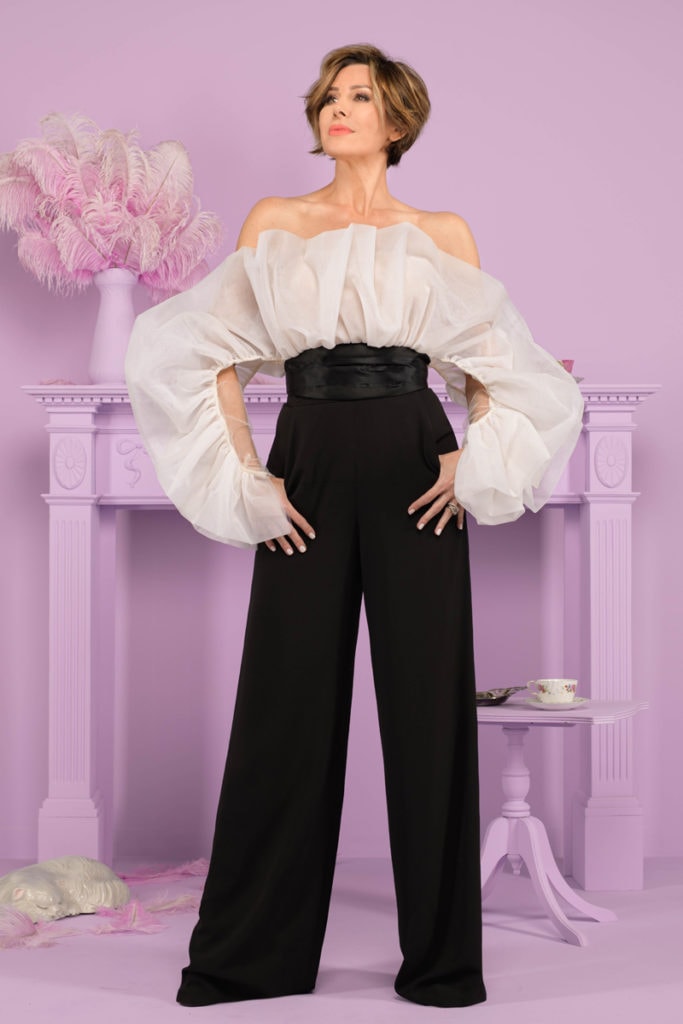 Dominique Sasche has been a television crush of Chris Spicks' for a long time, so having a photoshoot with her was a definite highlight. The shoot was in a large open art gallery that was open only to us. Six out of the seven of us wore masks the entire time and kept more than 8 ft of distance between us. Dominique was the one being photographed, so she of course did not wear a mask. Her presence was strong and fun, we laughed a lot! The shining moment for Chris was right after the shoot had finished. It had been raining that day. Now, Chris does not like getting rained on at all, so to see Dominique stride gracefully into the rain with her head held high, pop an umbrella, and not miss a beat left him in awe!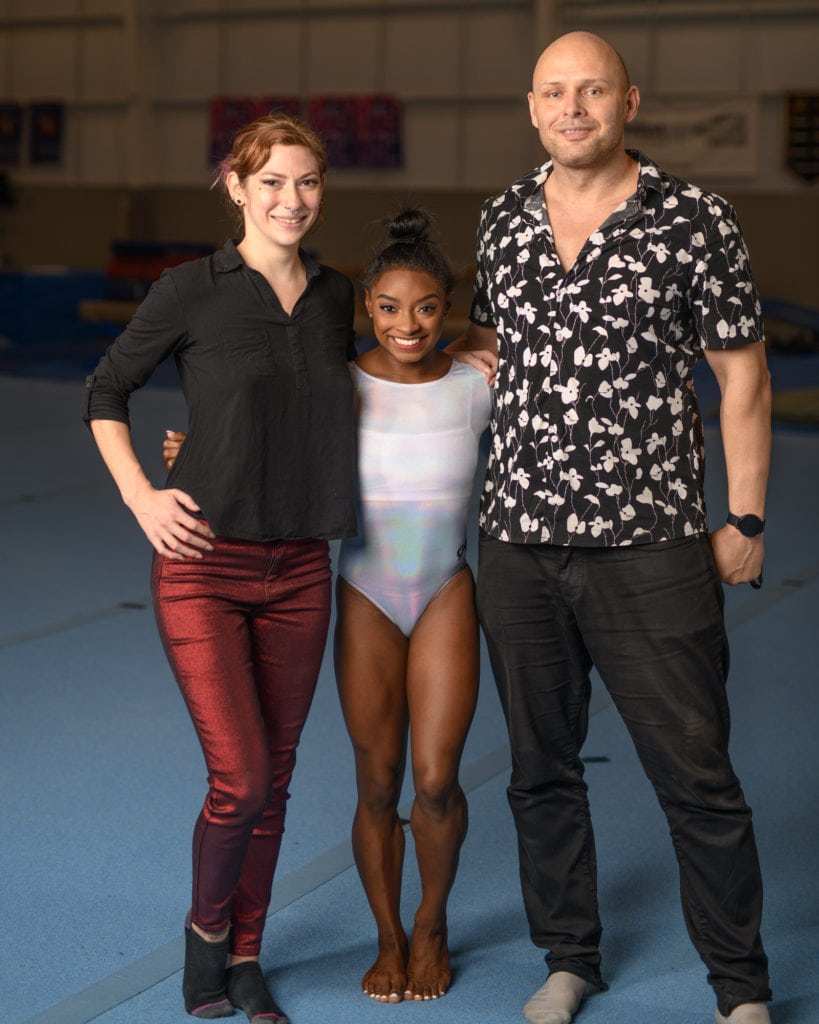 Red's golden moment came when Simone Biles was set to be in front of our camera. We went to the World Champions Center for this shoot! We got there early to set up, and dial in lighting. The first location was the balance beam. Part of setting up lighting is having a body in the same spot where we are going to have our subject. Our assistant Cody was with us, so he and Red took turns trying to hop up onto the balance beam. They were not graceful, and they struggled to figure out the best way to get up there. Then here comes Simone bounding across the floor and just jumps effortlessly up on to this beam that is about her shoulder height! It was incredible and left Red and Cody nodding to each other, "oh THAT's how you get up there." Watching Simone Biles up close doing gymnastics was a breathtaking experience, and one that will last with us for a long time. (Red was also thrilled that Simone Biles complimented her red sparkle pants.)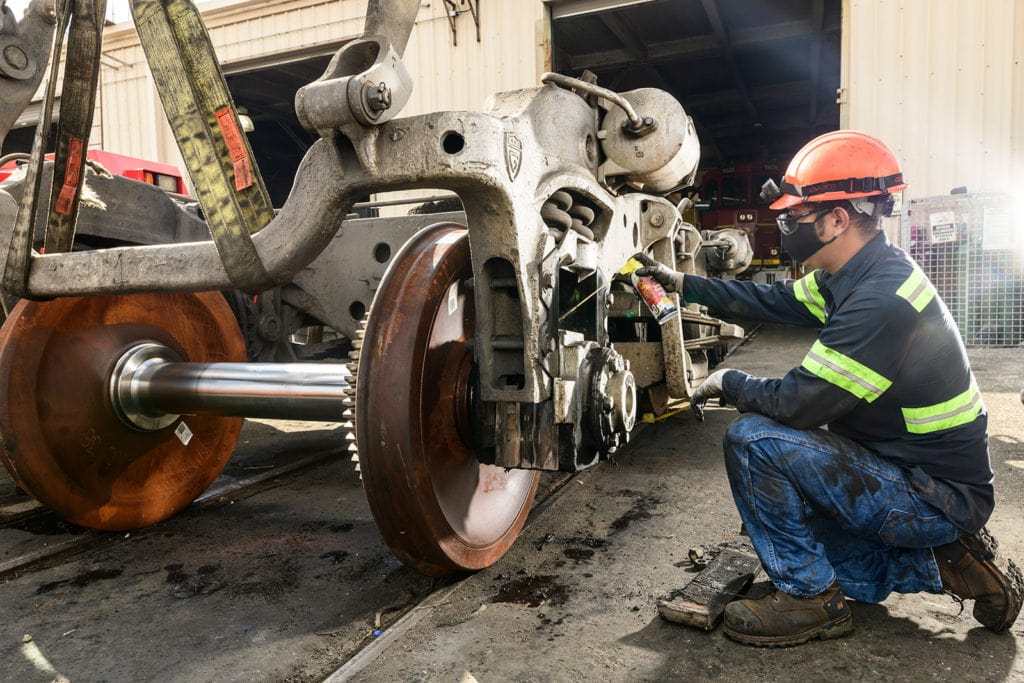 We photographed many fun, creative, and talented people in 2020, but we didn't stop there! We also got to capture shots of planes, trains, and …well, not automobiles. The train was super cool. They were doing a repair that needed to be photographed so their website images could be updated. We went out to the train yard in Houston for two mornings while they got the job done. It was incredible to see a train up on a lift! The team of workers communicated almost only with hand signals as they guided large pieces out of, and around the train car. The morning sky was cloudy and dramatic, a perfect backdrop for us to capture powerful images.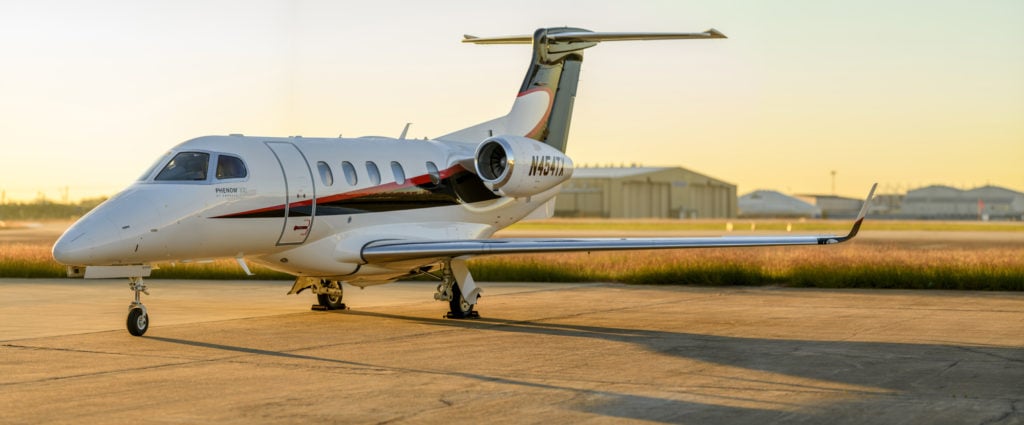 We spent a few days near Hobby Airport photographing a fleet of private jets! JetLinx shares a tarmac with MillionAir, and we went down on two separate occasions to shoot a couple of planes. Neither Red nor Chris had ever been on a jet before, and it was a pretty thrilling experience for both of them. Getting shots of plane exteriors was pretty simple, however those interiors are cramped!! Navigating tight quarters with photographer, assistant, camera, and light proved difficult, but we of course overcame and turned out great work. 
We hope 2021 brings us amazing opportunities, as well as a widely available vaccine, so we can all get back to what we love without fear of COVID-19. We are excited to see what the year has in store, and can't wait to share all the art that we create with all of you!
Stay Tuned,
Red